Marketing Challenges
1 – We Couldn't Advertise on Social Media
All Blockchain 2022 social media accounts were all banned from advertising, despite being a purely educational event. So everything we typically leverage was no longer available.
2 – There Were Over 80 Blockchain Events Happening Within the Same Week
It turns out Blockchain 2022 was not the only company trying to capitalize on the 35,000+ people coming to Miami for Bitcoin 2022. The unofficial satellite event list showed multiple events happening every day for the entire month!
3 – No Plans = No Content
With only 6 weeks to organize, Blockchain 2022 had no concrete details to provide about the event. For example, they knew they wanted to have a "Metaverse Experience," but had no clue what it would be. They knew they wanted to have something with Ethereum and Bitcoin miners, but again, no clue what. There were no speakers, no sponsors, nothing. How could we market with no information about the event?
The Solution
We had to work around the clock to plan the event logistics, which was imperative so that we would then know what type of content to create and market. However, with an inability to advertise on social media, we were getting quite discouraged.
Fast forward to 2 weeks left till the event, and only 6 tickets had been sold. We had to adapt quickly and decided to shift to a 10-day on the ground campaign while petitioning Twitter to allow us to advertise on behalf of Blockchain 2022 as an "educational event company." The ground campaign consisted of:
Creating Legendary After Parties
We partnered Blockchain 2022 with Bored Ape Yacht Club NFT holders and some of Miami's hottest nightclubs to ensure that every day after the event included an exciting party. For example, we secured Quavo to perform at Club 23 and Takeover to perform at E11ven.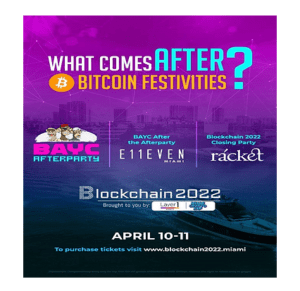 Passing Out Flyers …Literally Everywhere
We had 15,000 flyers handed out to people around the Bitcoin Conference and satellite events. In addition, 5,000 flyers were placed on parked cars.
Flyers were scattered across all of Miami through these efforts.
Giving Away T-Shirts
Who doesn't love a free shirt?
Going to Local Colleges
"Free" is all you need to say to these guys. *We had 52 students attend!
Sticking Yard Signs Everywhere
We had yardstick signs strategically placed through Miami. From the moment someone arrived at the airport, all the way down I-95, throughout Wynwood, at the beach, etc. Everywhere you look, you would see these signs.
BUT 8 DAYS OF THESE EFFORTS, AND STILL NO MORE THAN 5 NEW TICKET SALES.
WE WERE NOW 52 HOURS OUT TILL THE EVENT!
**Cue heroic music
Then, out of nowhere, our Twitter angel messaged us. We were approved for an I/O request and if we provided all copy and images to be used as ads, then Twitter would manually approve them for usage.
SHOWTIME!
With less than 48 hours until the event, we had to quickly come up with memorable and persuasive ads, so we crafted copy to promote with our after-party videos and looked at current events to see what was going on.
We discovered that thousands of flights were being canceled, meaning everyone who came to Miami for Bitcoin 2022 was now stuck. We decided to take advantage of the flight cancellations and came up with an ad idea that mimicked the siren from the Purge.
When people would scroll through their phones, they would see "It's NOT Safe to Fly" and hear the Purge siren. Considering most everyone was from out of town, this ad became the talk of Miami.
We coupled this ad with a retargeting campaign that showed highlights of a Bored Ape Yacht Club afterparty we were hosting. The ad generated over 10,000 website visits.
Results
Overall, by the time of the event, there were 941 registered attendees and another 77 virtual attendees. It was a huge success, and everyone LOVED it!